Ever Googled how to Google?
Here's how Google evolved from search to become the most powerful productivity tool over the years.
Did you know that Google started image search because of 'that' green dress worn by Jennifer Lopez? That my friend is the most epic example of human curiosity in the 21st century.
Accounting for more than 70% (desktop/laptop) market share when it comes to search engines, Google to us is the first logical step to finding answers to our questions. From converting currencies to knowing the reason behind our itch, we've come a long way from browsing books at the library.
This share becomes more than 90% for mobile traffic! People have already started using 'google' and search interchangeably. 
This is how the homepage has changed from 1998 to 2020: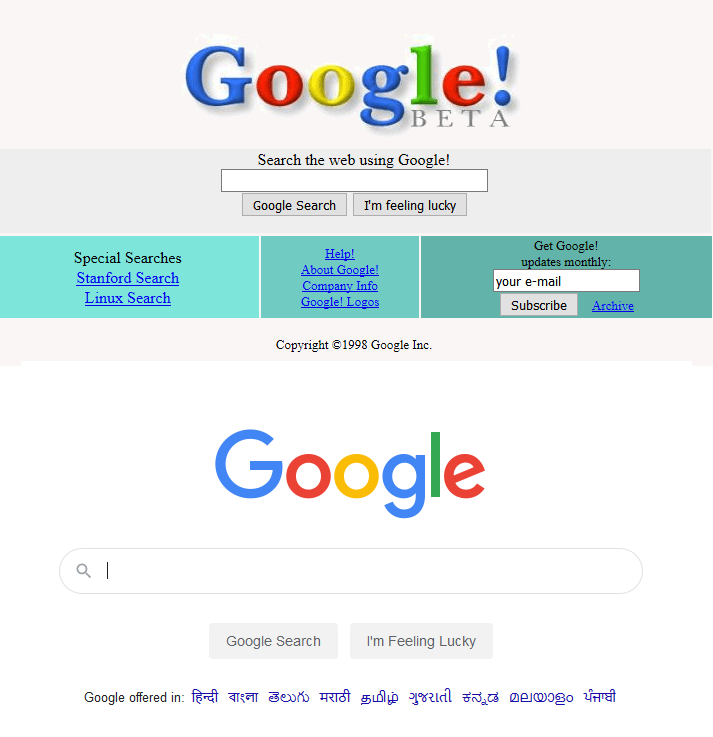 Google search is now more than just a collection of web links. There are so many inbuilt features, thanks to the recent changes in Google's algorithm to streamline user search experience. You can read more about them here.
Moving beyond the usual query search, you can learn more on how to optimally use the beauty that is Google, and maximize your search efficiency. In this issue, I'll talk about some tips/tricks/hacks to make the most of your google search and illustrate with examples wherever possible. This will totally boost your learning productivity!
Outline: Modifiers -Operators -Search Tools -Other features
---
Modifiers
First up is modifiers, the symbols that will help you refine your search and narrow down the results so that you find exactly what you are looking for. 
Most of us just type in what we want without any symbol, however, one such symbol is always implied: '+' which corresponds to searching for all words in your query together. The spaces in your search query are automatically read as + by Google. For example, look at the URL bar corresponding to the search query here:

1. Hyphen/Minus
Opposite to the plus modifier, the '-' sign will help you filter content by excluding words that you don't want to appear in your search results. This becomes especially helpful when dealing with words that have ambiguous meanings. 
Let's say I search for Pesto, but I don't wish to see results about the sauce and its recipe, I can simply type: pesto -sauce -recipe. You can see the difference it makes in the screenshots below: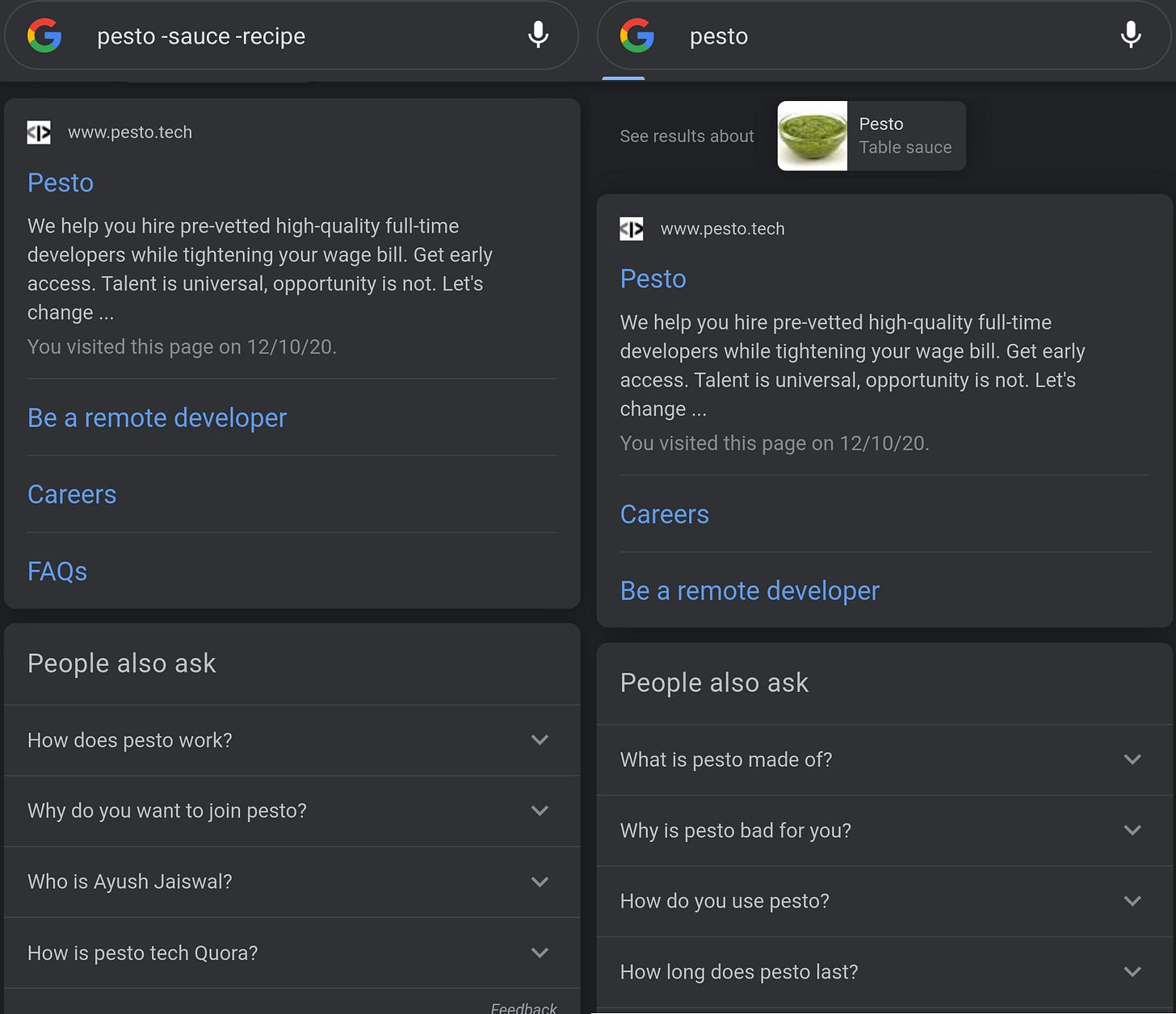 2. Quotation Marks
If you want to search for exactly what you type and want that to appear as it is, embed them in quotation marks. You see, when you type in your usual query, Google's algorithms search for pages that contain them together but they need not be in the same order you specified. Quotes on the other hand, help you exactly with that.
For instance, I can search for pages that contain the phrase "installing a solar panel" in them.
3. Tilde
The '~' symbol helps you in finding words/phrases similar to your keywords. You can easily find synonyms and related links to your keywords. Since I wanted to learn about tips to use Google efficiently, I could have searched: Google ~tips and this would return me with all words related to tips such as tricks/hacks, expanding the scope of my search. However, recent changes to algorithms include similar worlds by default.
4. Asterisk
The asterisk '*' acts as a placeholder in your search query. When you use *, Google will automatically fill in the word for you. Best suited for finding full names for people/books/movies or lyrics to a song, the asterisk will help you with the word that skipped your mind.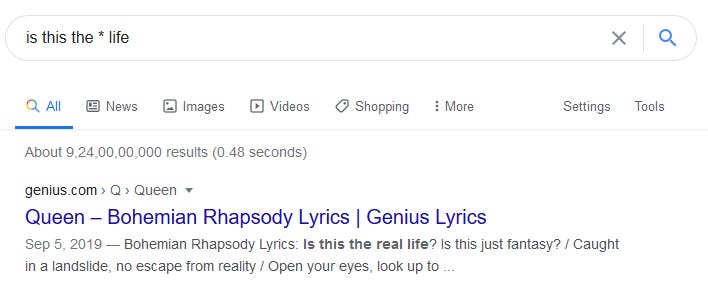 5. OR
The OR modifier allows you to search for webpages that contain either of the words in your search query. Continuing my initial example of London Paris, if I search London OR Paris, I'll get links to separate pages related to London and Paris as well as pages containing both of them together. See the screenshots below: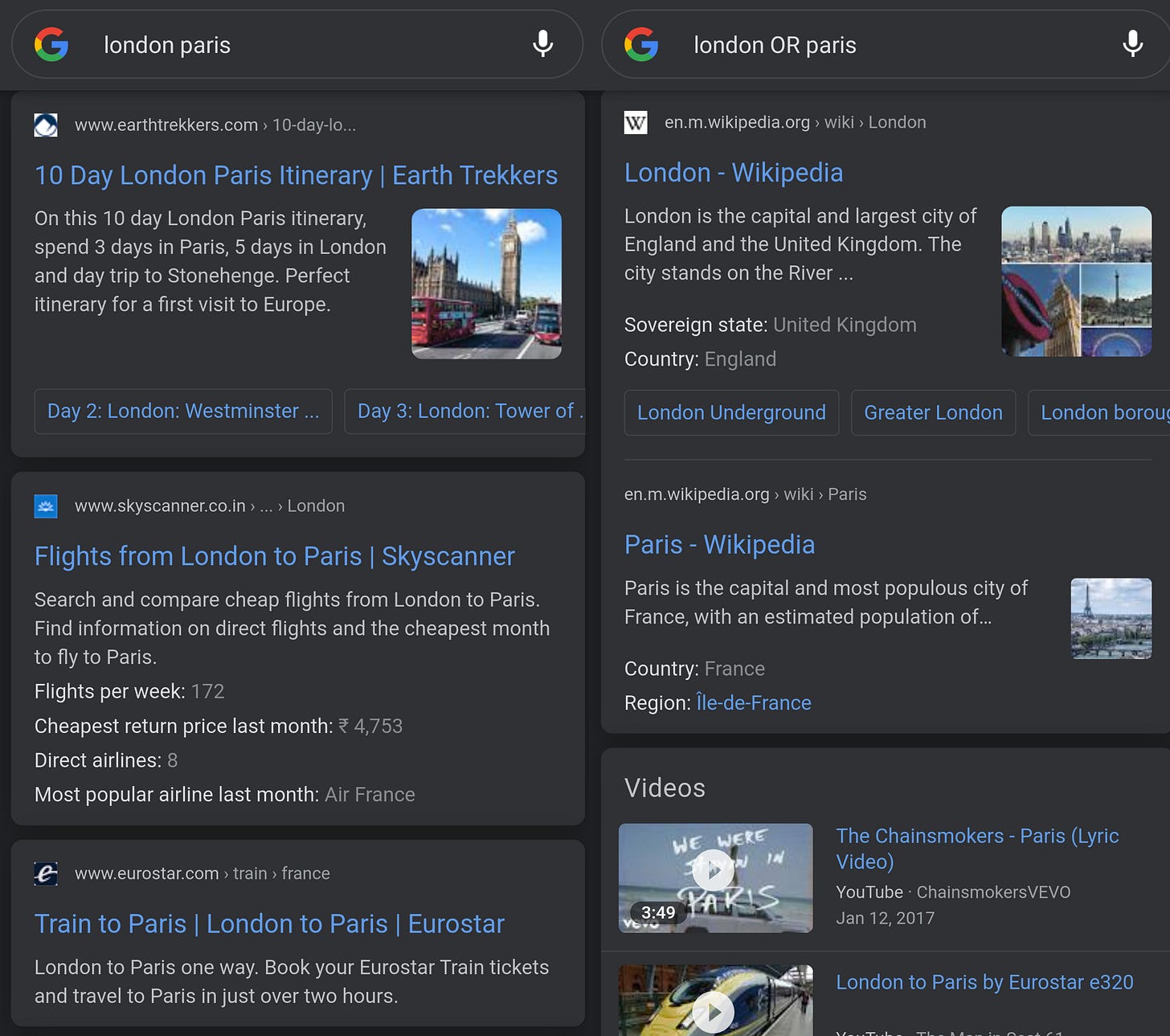 ---
Operators
These are special commands that tell Google where to look exactly, for example, if you want to search about something on a specific site or you are looking only for PDF documents.
6. site:
As the name suggests, this command lets you search for words within a specific site. If I want to read articles about Apple on The Verge, I can simply type site:theverge.com apple and get the latest stories. You can use this for searching within websites even if they don't have an in-built search function.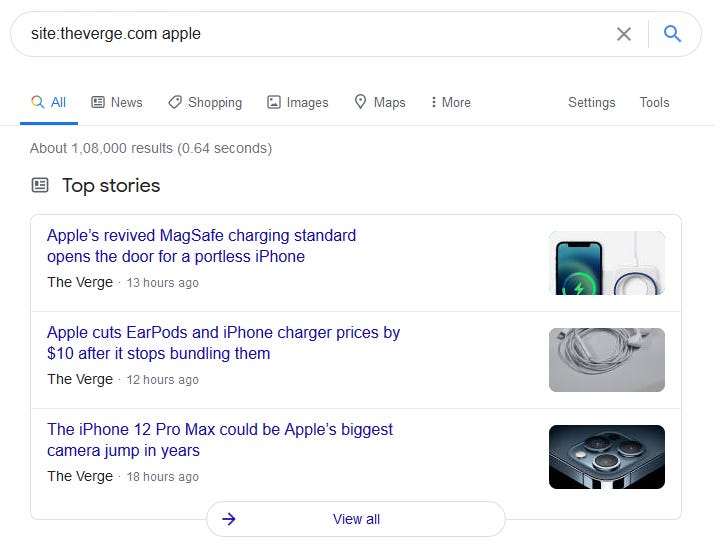 You can also use the site: to access content related to a particular country by using the country's top-level domain (TLD). For example, if you want to search for articles on snow in India, type snow site:.in and you'll get the related links from India. Similarly, you can also filter results based on generics TLDs like .edu/.org/.net, etc.
7. intext: & allintext:
These commands let you search for keywords in the body text of a site. Use intext if you want to search for sites containing any of your keywords in their body and allintext if you want all the keywords to be present in the body.
For example: rivalry intext: Ronaldo Messi will list pages related to a rivalry that contain either Ronaldo or Messi, or both in their body whereas allintext: Ronaldo Messi will display pages that contain both the names together.
8. intitle: & allintitle:
Similar to the previous commands, these commands will search for keywords specified in the title of the webpage and not its body.
9. inurl: & allinurl:
Analogous to the previous commands, these operators narrow the scope of search to keywords in the URL.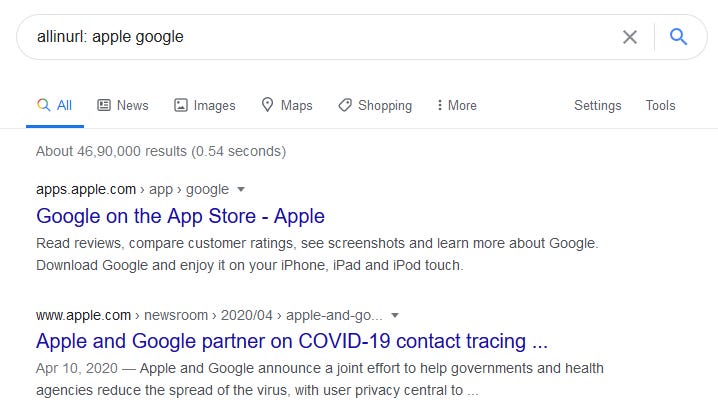 10. related:
This command is used for finding related web pages to a particular page. The usage syntax is related:[URL].  Since, we are talking about Google search, if you want to find other search engines, just type: related:google.com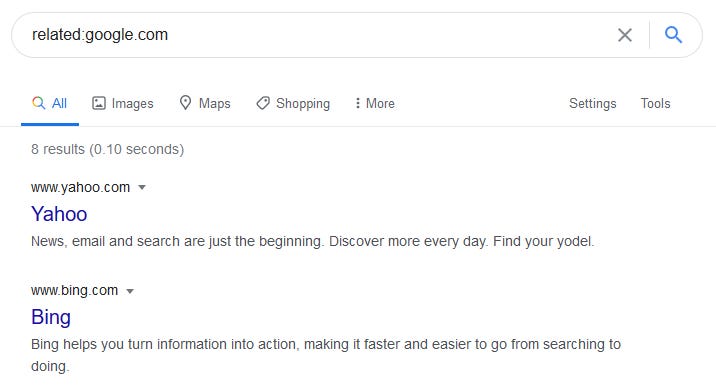 11. link:
If you want to search for pages that link to a particular website, type link:[URL]. This can also be useful in track citations for your website/blogs/articles. For example, I want to check all pages that link to Pesto's website: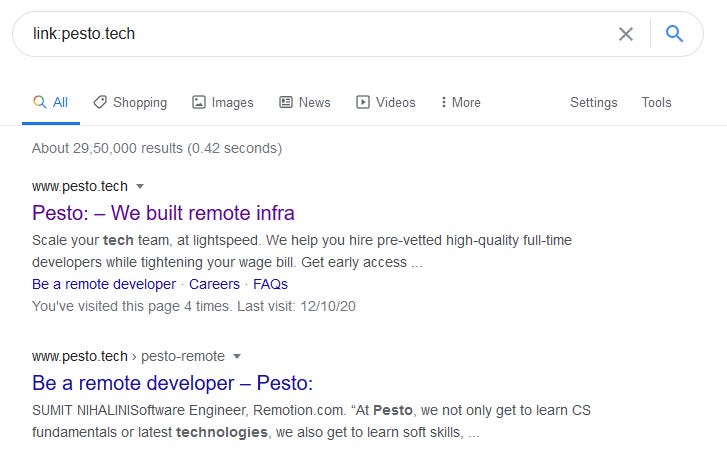 12. filetype:
I find this command quite useful when I only want to access PDFs or docs that match my search query. Use filetype: [suffix] to limit the results to a specific file type. Now, you want all these google tips to be in a PDF that you can print and put up on your desk, type google search tips filetype:pdf and you'll get this.
13. AROUND(n)
An advanced command of sorts, Around lets you search for two terms that should lie close to each other in a webpage. The number 'n' sets the maximum distance between the terms. For example, Windows AROUND(5) Mac will return pages where windows and mac are separated by less than or equal to 5 words.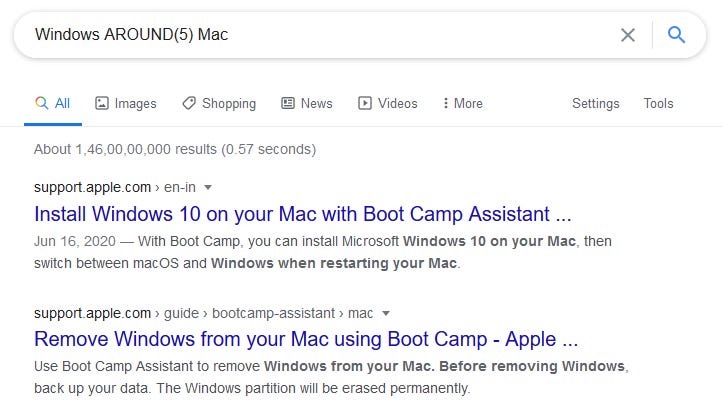 14. define: & etymology:
Define is the quickest way to search for a word's meaning. Gone are the days of tedious browsing through a dictionary. Use define:[any word] and you'll get its meaning, synonyms and uses.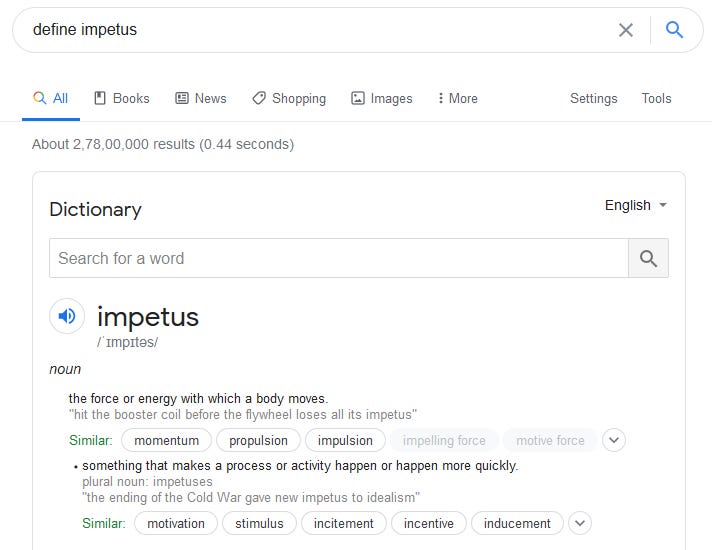 etymology:[word] on the other hand will give you the word origin. 
15. location:
Used for finding location-specific information, for example, you want to learn about carnivals in India, just type carnival location: India and you'll find links related to the carnivals in Goa and Cochin.
---
Search Tools
In addition to the modifiers and operators above, Google is equipped with other tools to further refine your search experience. It had introduced tabs back in 2002: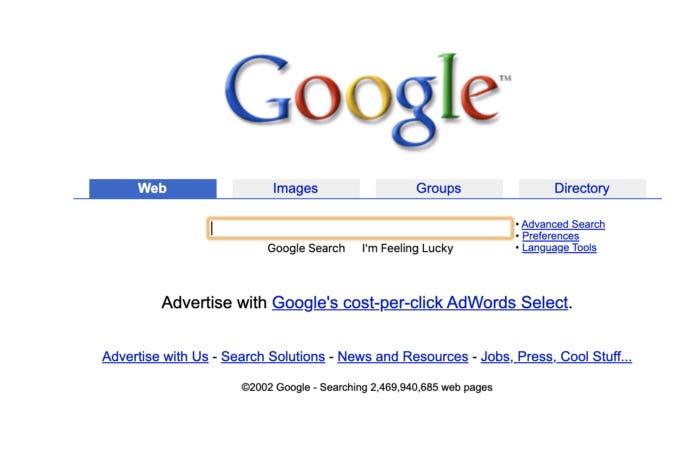 Tabs became a phenomenal approach to categorize search results. Today, this has expanded to include videos, news, maps, shopping, books, etc. Here are some other tools that you can use:
16. Sorting results by date
Google allows you to refine your search based on the publishing date, which is especially useful for sorting news or recent stats. This ranges from an hour to a year. Moreover, it also lets you feed in a custom range.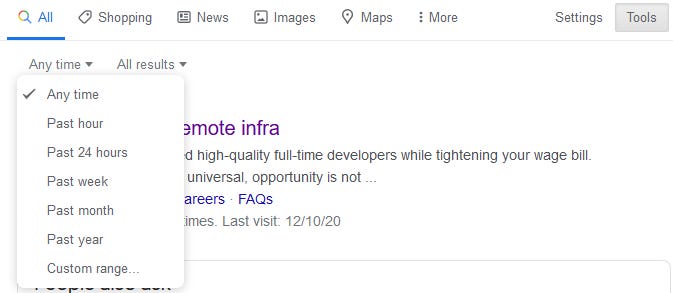 17. Image search tools
With images, the tools option also expands to include categories such as:

Size: Choose from Any size, Large, Medium, Icon

Color: A grid to select a particular color 

Type: Choose from Any type, Line drawing, gif, Clipart

Usage rights: Allows you to choose between Creative Commons and other commercial licenses 
18. Video search tools
Allows you to filter videos by their duration, quality, time, and source. For example, here I have selected some options to refine my video search:

19. Cached Pages
Have you noticed a tiny inverted triangle next to the URLs when you search for something? When you click on it, you'll get two options: cached and similar.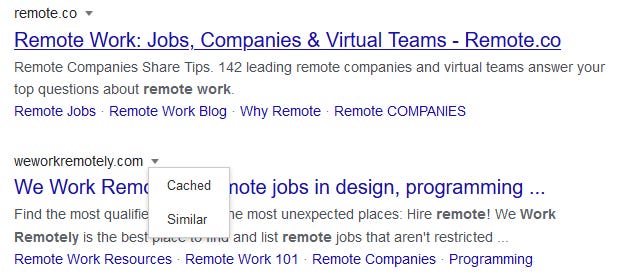 Cached lets you load a cached version of that page, i.e how the website looked when last time Google visited it. Google takes a snapshot of each web page as a backup in case the current page isn't available, or down due to server problems. You can also use cache:[site] to access the cached version.
Similar on the other hand will show you related pages, and is basically the related: operator in dropdown format. 
20. Advanced Search
The advanced search does exactly what it is named for. It combines all the tips and modifiers mentioned earlier in a single page. If you want very specific results and use multiple filters and modifiers at once, this is your best bet. You can access Advanced Search by going to Settings > Advanced Search on the bottom of the Google homepage.

21. Reverse Image Search
Another interesting feature that hasn't yet become popular is to do a reverse image search. Let's say you have an image but not much information about it, you can go to Google images and click on the camera icon which will give you the following option to upload the image and search for related images and links that contain your image. 

However, this won't work for your personal images or photos of your friends. It works only for images that can be found commonly on the internet.
---
Other features
Features snippets are the result of changes to Google's algorithm over the years which allow users to access the information they need without clicking any links. You would have noticed a brief summary of the content of any website when you search for something. In addition to these snippets, here I list some other things you can do with your google search box:
22. Do a calculation/ Plot Graphs
You can perform simple mathematical operations as well as advanced calculations with the inbuilt calculator and math mode without going to any particular website or app.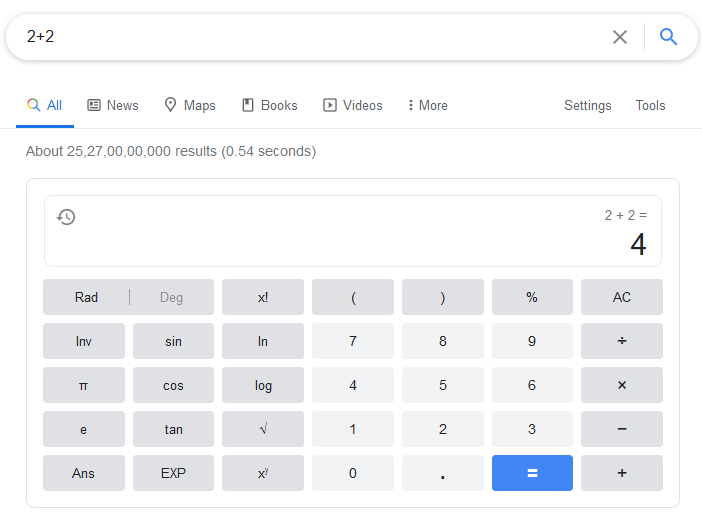 23. Tip Calculator
Apart from your regular scientific calculator, Google has a calculator designed particularly for calculating tips which let you set the tip percentage and split the total cost with people sharing the bill expense.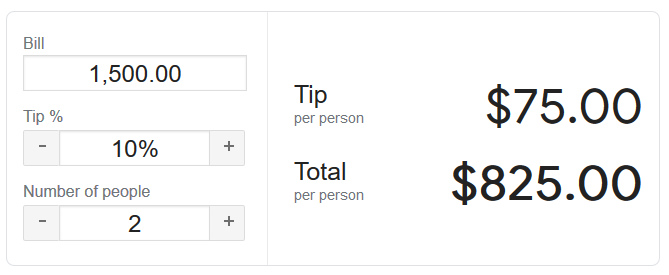 24. Conversions
Google search supports a variety of unit conversions: weight, length, currency, time zones, angles, etc.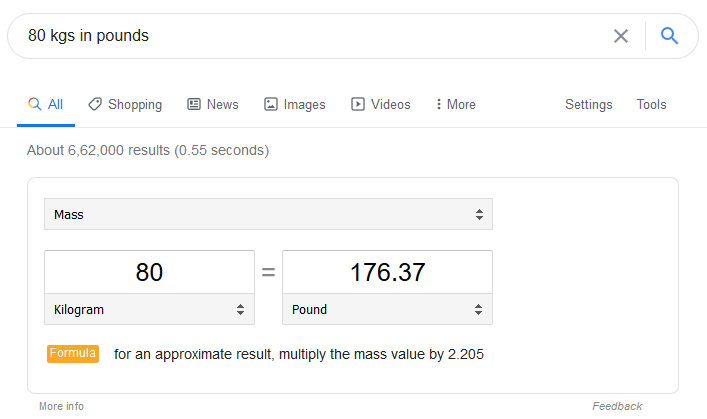 25. Time/Sunrise-Sunset
You can find the local time of any particular place including the timings of sunrise and sunset.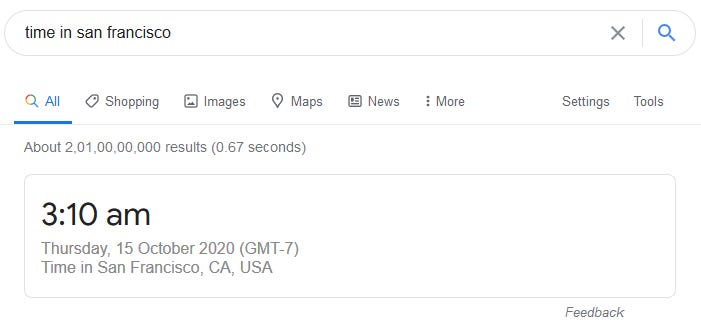 26. Track your flights
Just enter your flight number and you'll get its schedule as well as its real-time updates.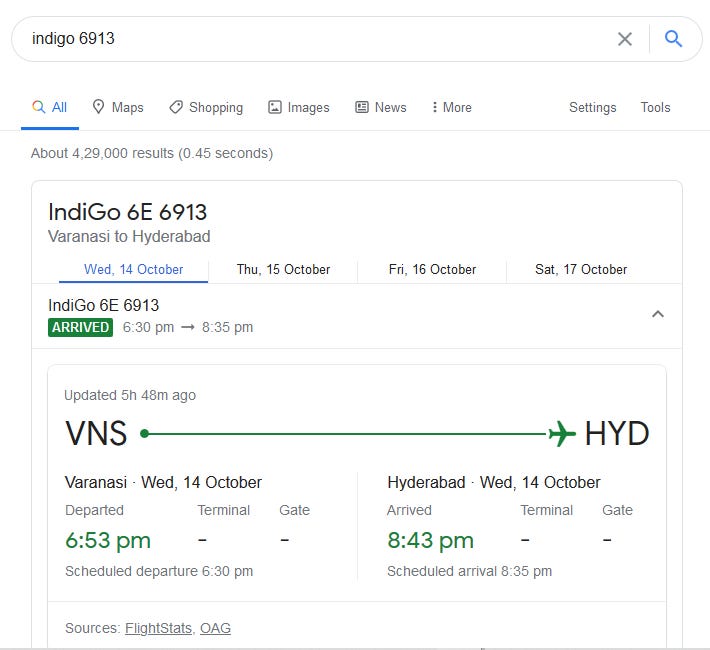 27. Translate
Google translate can be used directly in the search bar, just type the word that you want to translate and add in [language]. Sometimes, you don't even need to enter the language part. Google automatically detects the language and translates the word to your browser's set language.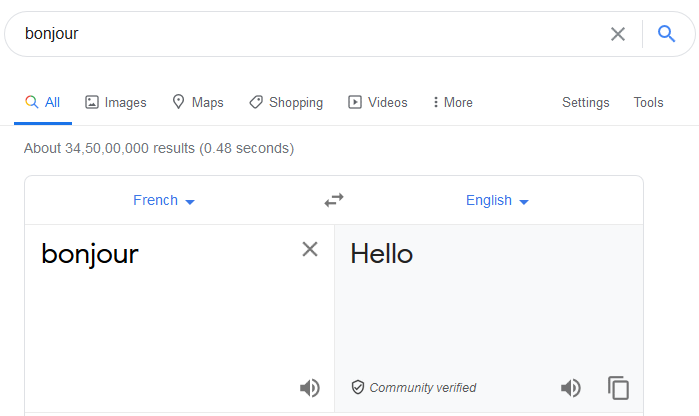 28. Stocks
Find stock related information about any company: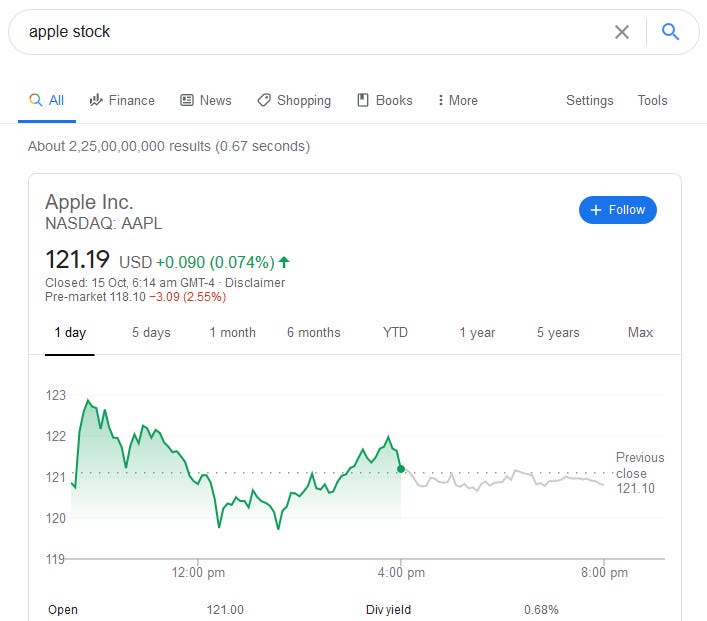 29. Timer/Stopwatch
Use google search as a stopwatch!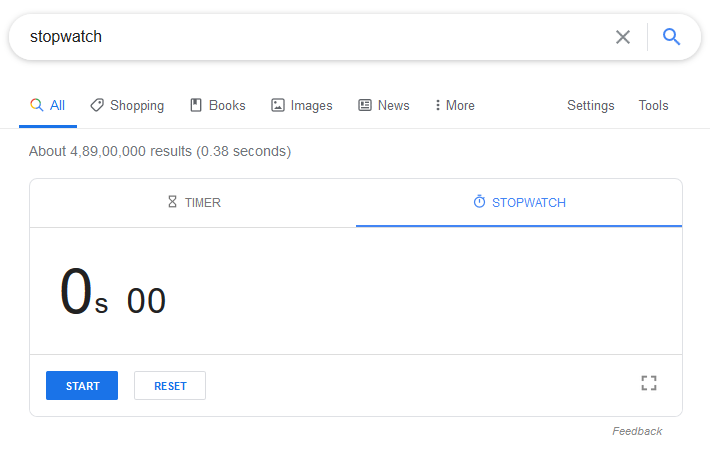 30. IP address
Google will also tell you your IP address super quick and you won't have to go through your network settings.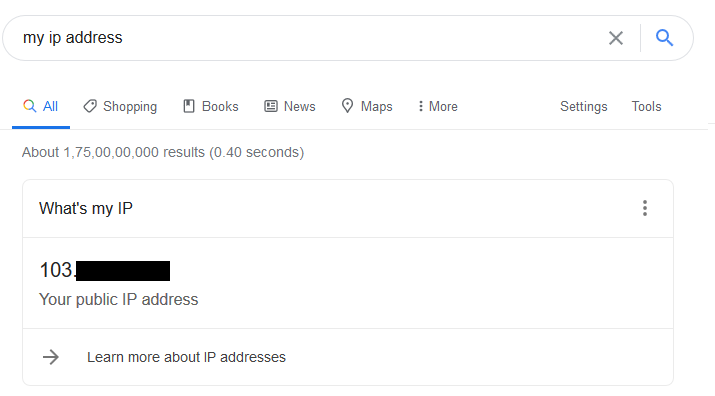 ---
Easter eggs
Enough about the tips and tricks, Google being Google wouldn't miss adding the fun bits and Easter eggs. So, here are a few of them that you can try and see for yourself, a bigger list can be found here.
Flip a coin or roll dice

Type Askew and see for yourself

Do a barrel roll

Play games like Solitaire, Pac Man, Zerg Rush, and Tic Tac Toe instantly

---
Finally, it would be unjust to write something on Google search and not pay tribute to the iconic 'I'm feeling lucky' button which has remained constant over the past 22 years. So, in case you haven't used the button ever, type something, and click it and see what happens if you are feeling lucky. 
---
I write because I believe teaching is the best form of learning. I'm looking forward to writing more over the weekends, do let me know what you think! I'm at @aayushjaiswal07. 🙏