Your Side Project: It's Not as Difficult as You Think. Your Ideas should not die.
Your ideas don't belong in graveyard, they need to live to see if they can survive. Build projects & launch them to see if it works.
Hey there! Thanks for being a great audience. Today I want to talk about why you should turn your ideas into side projects & how to launch them.
Before we get started, quick word on what I'm working on: I'm building Pesto. We help awesome developers get access to global opportunities with some training.
If you're a developer looking to join Pesto, let me know here.

If you're looking to hire a developer, apply for access here.
We send books & merch to random applicants each month, we may reach out for details :)
---
Introduction
🎉
Some of the best companies were born from random ideas that went wild wrt traction. According to arguably the world's best accelerator YC, building startups are about building something people love. This means there are 2 simple steps here:
1. Build something.
2. Test if people love that.
As a creator, if you're someone who has built a few projects that never saw daylight: I'll share a quick guide on how to launch & test your side projects in this article.
This article aims to encourage and make it super easy for everyone, especially developers to be a maker by making the most of Product Hunt: A platform to discover & launch products. Here's what to expect:
Outline:
→ Your random ideas matter!
→ Build something simple: Less is more.
→ Getting to know Product Hunt.
→ Building your presence.
→ Launching the product.
→ Promoting your product.
→ Post-launch.
---
Every Idea Matters 💡
The first and foremost thing you'll start with is an idea. I love this Paul graham's essay on how to get startup ideas.
The way to get startup ideas is not to try to think of startup ideas. It's to look for problems, preferably problems you have yourself. - Paul Graham
What's important is not to let those ideas die. Most ideas die because we often overthink before taking action or procrastinate until it's too late.
It's not important for all ideas to become startups, they can just be projects to solve your own problems that some people may love. Some of the best startups were born that way.
Problem: We often find bs logic to cover up our fear of failure.
You should know: Doing nothing is much worse than failure because you didn't learn. Failing fast is a much better mechanism to get success. Here's a framework that may help you understand this better: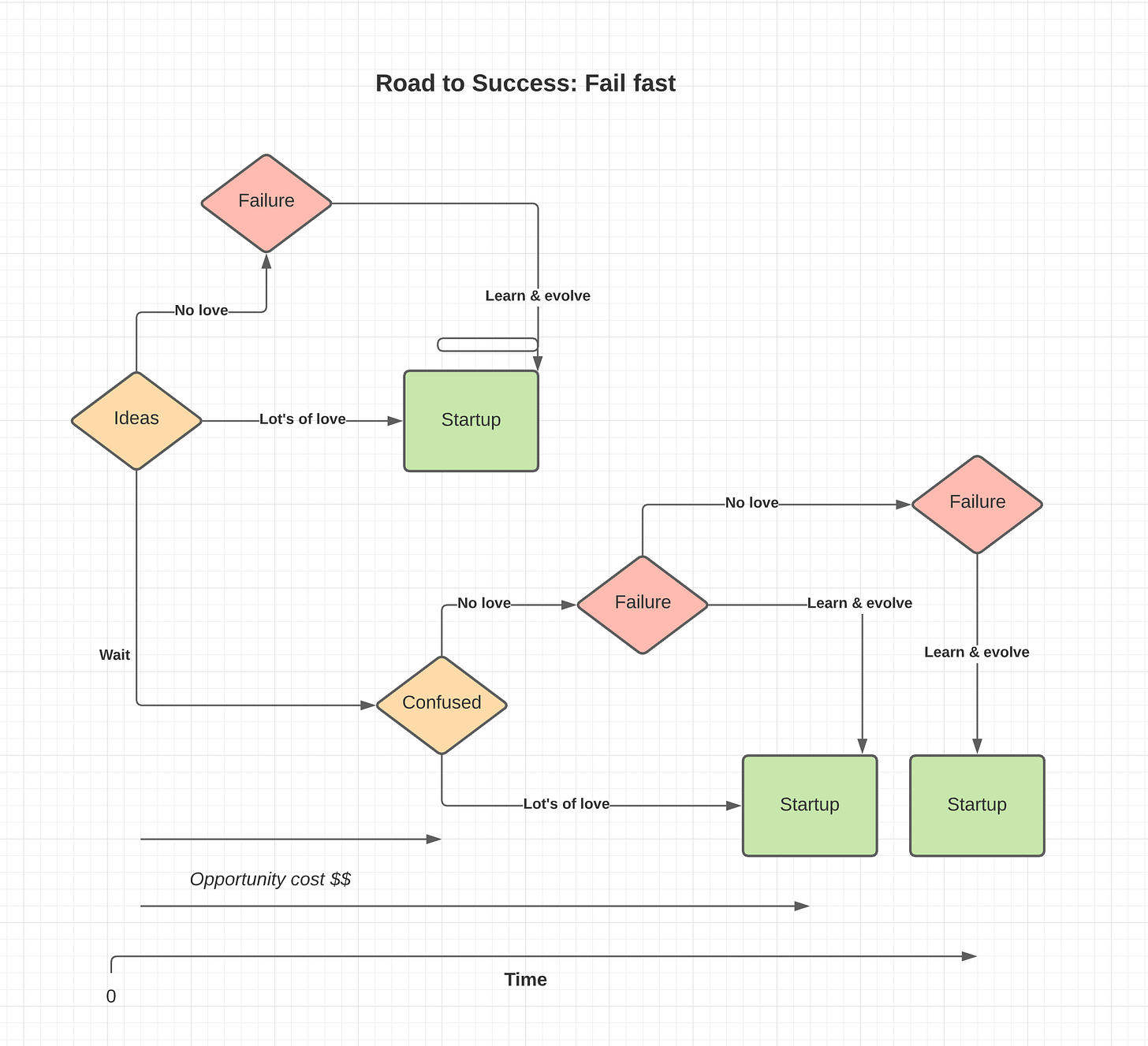 I worked on a bunch of projects before I discovered the love for Pesto as well. The opportunity cost of being in the confused zone you should focus on above.
Once you realise that's it's time to get in front of your early users to get their feedback & see if they like your product.
It's important that you track some metrics since that's the signal for you to measure the love you get from users. One good way is to launch your product on Product Hunt. I'll explain the platform in the next section.
---
Build something simple: Less is more 🚲
Launching something doesn't necessarily have to be complex. Features are always built on top of the core value proposition of any product.
It's very important to avoid the features syndrome. Instead, try to focus on finding that one core feature that some group will love. If that group is large enough, you'll have a shot at building a good company out of it.
I often take this example of bike, specially for engineers. Since there's a tendency to build, our brains are wired to look at solutions & we get down to building. In this world full of noise, any product that does everything does nothing.
Try not to over engineer & stick to basics. All you need is that one core features that will motivate you to talk about your product passionately with their friends.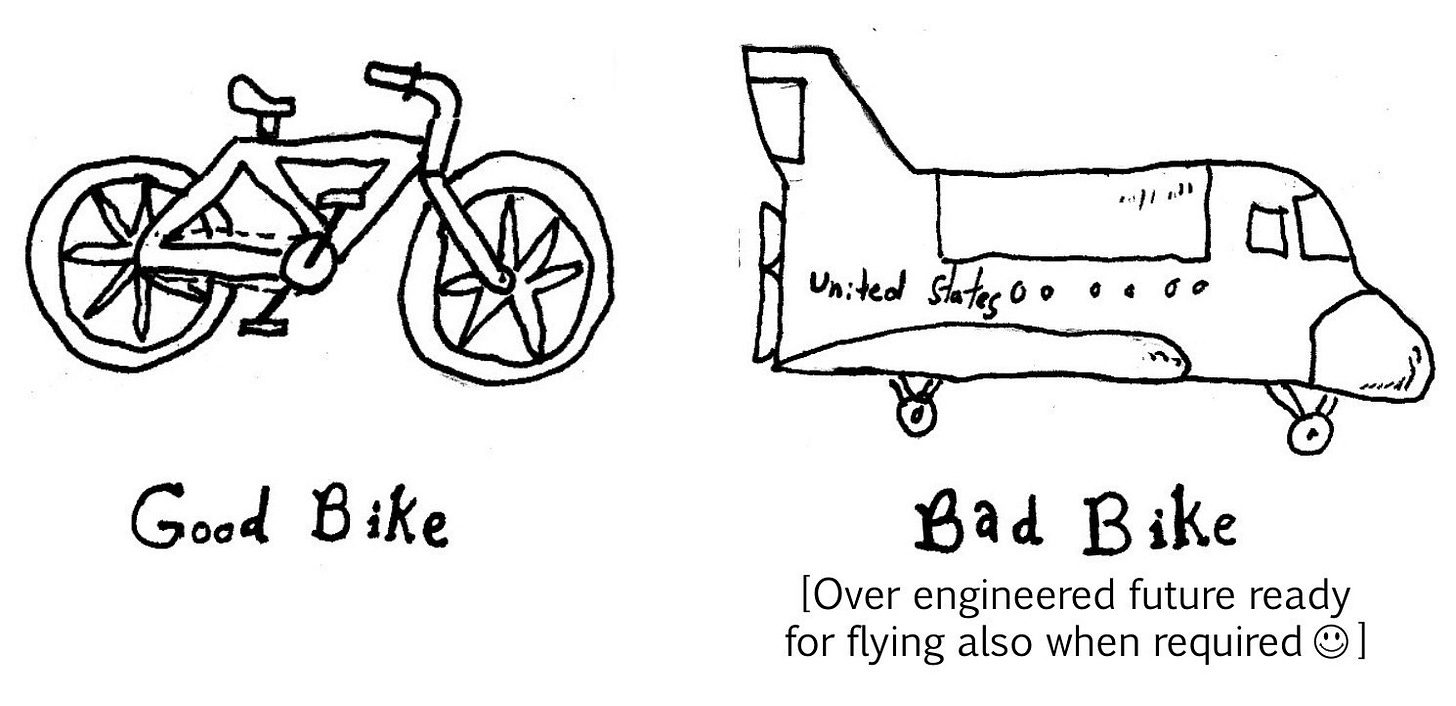 ---
Getting to know Product Hunt 👻
Launched in 2013, Product Hunt is a community of makers. Software is eating the world, Product Hunt helps you discover the best ones or launch your own. It's been an extremely influential platform for me personally as well.
PH makes it easy for you to test your ideas. It's a great way for a maker to work on side projects and test things out before they take the leap. You can:
Build a prototype.

Launch on product hunt.

Get early traction.

Create feedback from the community.

If the community loves it, raise funds.

Hire folks and get lot's of deals via Founder Club.
So many companies have made it big via Product Hunt in the past 6-7 years. Here's a list of some cool companies with successful launches.
How it works
Makers can directly post the products they're working on. Also, tech enthusiasts from the community can post these products as well. These users are known as hunters, and appropriately so!
You can think of these hunters as internal curators who carry a reputation for discovering amazing tech.
Once the product gets on the platform, the community brings value by sharing feedback and often becoming your early customers.
PH's algorithm is designed to give equal opportunity to all products & this is great for you. If your product has value, the algorithm is designed to give you the traction it deserves which helps you validate your idea.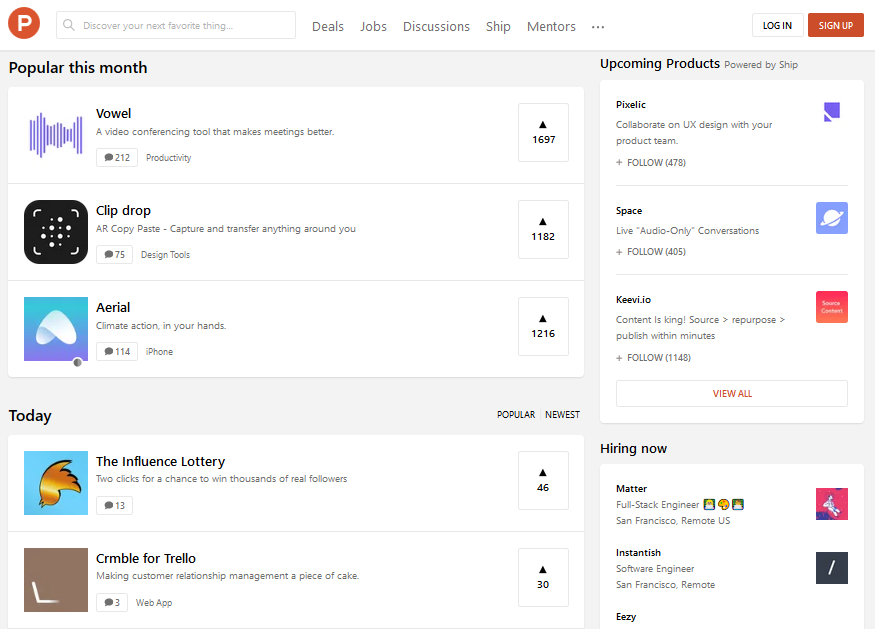 The ones at the top also make it to PH's next-day newsletter which is sent to hundreds of thousands of readers & many other such opportunities pop up. Basically, if you have an awesome product, the community appreciates it!
PH's Super Secret Algorithm 📈
PH loves keeping its algorithm super-secret and while we may not know exactly how it works, there are a few things that users have observed over the years from products that perform well on the platform:
Platform engagement: PH's algorithm rewards users who have spent time on the platform and engaged actively with the community by showing support to new products, participating in discussions, leaving their feedback, etc.

Three factors: The number of upvotes is not the only factor that determines the ranking of products on PH. Additionally, there's a time factor involved in gaining those upvotes i.e. how long it takes to collect the votes, and how many comments are there on your listing.

Don't ask for Upvotes: The algorithm penalises those using spammy tactics to increase their votes. Similar comments or multiple users upvoting from the same location can negatively impact the performance of your product. That's why common advice that almost everyone offers is: Ask for feedback, not upvotes.

Timing is the key: As per PH, there's no best time but you would want your product to be there on the platform as soon as the daily listings are updated. This takes place between 12:00 am - 12:30 am PST. Launching your product in this interval gives it a full day of visibility on the platform.

Weekdays matter: The algorithm has no direct role to play here and it's got more to do with human psychology. It has been found that Tuesdays and Wednesdays are the busiest days on the platform with the traffic on the website being heaviest. If you want to avoid the crowd or your product facing tough competition, Saturdays might suit you better. See the correlation between votes/comments and day of the week below, though they are 4 years old, they are still relevant.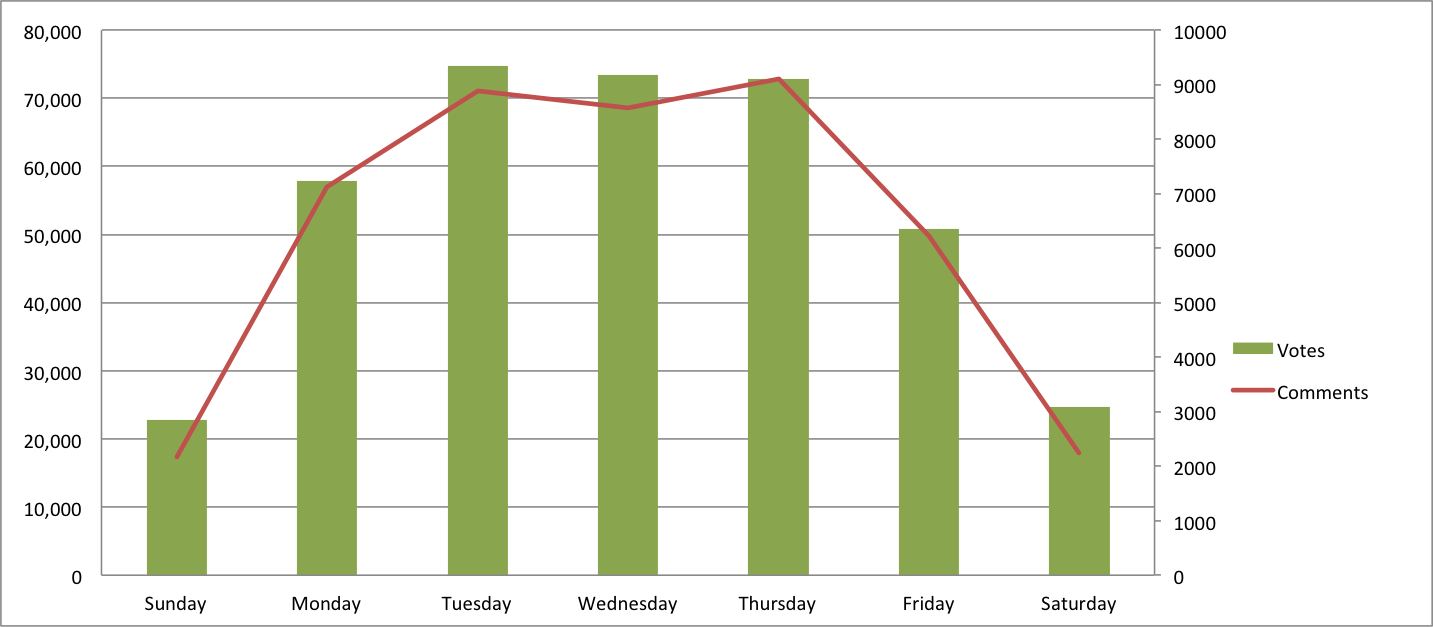 ---
Building your Presence 👨‍👩‍👧‍👦
This section basically deals with pre-launch preparation that you must do in order to increase the visibility of your product when it's launched. I'll just list a few self-explanatory points that can help you build your presence on PH.
Making connections
By now, you are on the platform and have seen what PH is all about. It's time to hone your communication skills. Observe how top makers and hunters interact and respond to reviews, interact with their posts, and make friends.
Connect to influential people, discuss your ideas, and seek their advice. You can check this post on how to pitch hunters. This will also help you with a list of influencers to reach out to when you launch your product (in case you want your product to be hunted). To put it short, you need to socialize on the platform without coming off as desperate.
I believe that even if you don't want to launch your own products, spending time with the community helps you learn a ton.
PH's Upcoming Pages
As mentioned earlier, the website has a dedicated section for upcoming launches. You can use Ship to create interactive pages to engage with the audience. These upcoming pages contain a brief description of the product, along with a few GIF demos to show what it can do/does.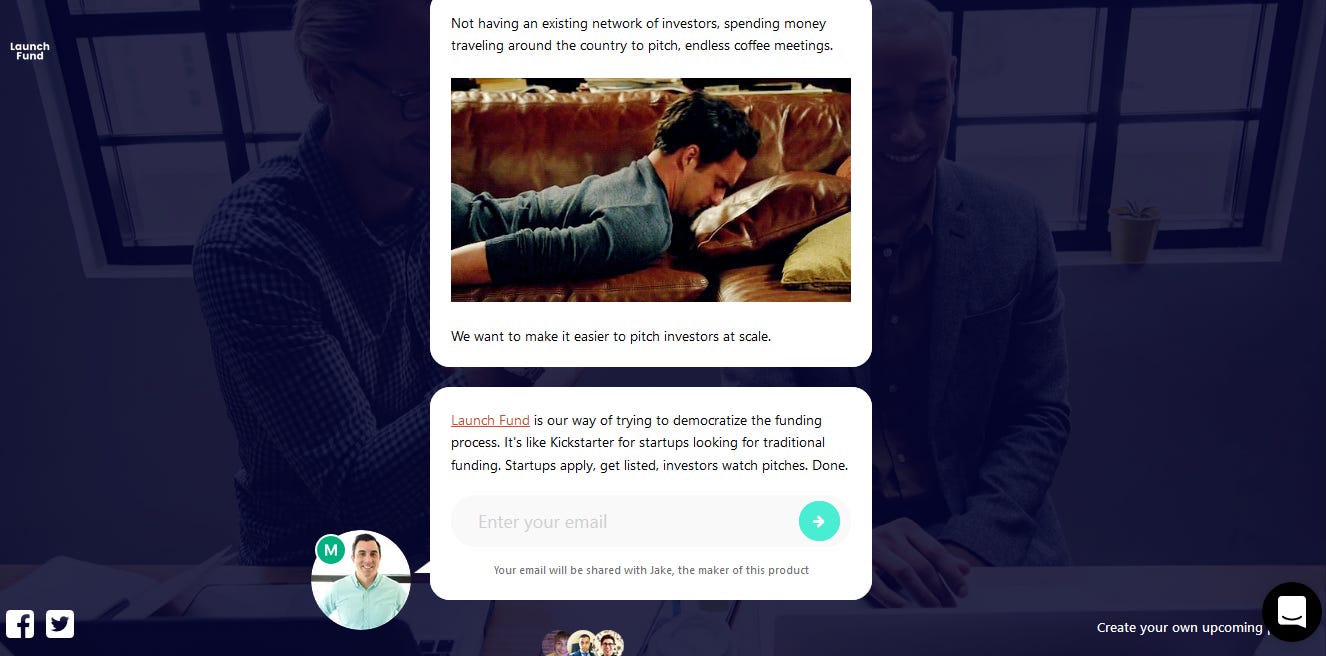 It also contains links to the product's social media platforms as well as its website. And, most importantly it is a great tool to collect the emails of people interested in your product. You can send newsletters and updates to these people about the development of your product and build a user base before you launch the product.
Get your team on Product Hunt
Since newly created accounts supporting your product can negatively affect its rankings, it is advised that you get your team members to join PH well in advance, ideally a couple of weeks before the launch.
Ask them to interact positively with other users just like you do. As a team, your presence will help you gauge what's hot on the platform. There could be weeks when similar types of products are saturating the market and it might be a good idea to push your launch sometime later to reap the maximum benefits.
Moreover, your team is your biggest support system on and off PH, it's important to keep them in the loop if you are going the PH way.
---
Launching the Product 🚀
Just like any developer, you would also have your eyes on that daily feature list. So far, this issue of the newsletter has dealt with all the background preparation you need to in order to have a successful launch and fortunately, make it to the top. In this section, I'll focus solely on the listing process.
Hunting your own product vs. Hunters
A question that occupied almost everyone's mind in the early days of PH was how to get a 'hunter' to list their product. Contrary to what many people believed, you don't need a hunter to post your product, you can hunt your own product.
PH itself has cleared the air around this question, and at the same time has weighed in on hunting your own product over getting a hunter. In the early days, PH would send a notification to the followers of a hunter whenever they posted about a new product, hence, people wanted hunters with a large number of followers to hunt their product. PH stopped sending that notification a long time ago, so getting a hunter doesn't make much of a difference.
Instead, build your own presence as outlined in the previous section and hunt your own product. This gives you better control of things and statistics.
Preparing the listing
Coming to the part of actually listing the product, PH has a detailed guide to help you with the posting process.
If you're doing a pre-launch period, it's important to emphasise the core value prop & build a good marketing strategy. Having a great explainer video goes a long way.
In addition to videos, make a lot of GIFs and create readable content based on your product. Adding credibility by sharing your key customers or building multiple distribution strategy helps.
Prepare FAQs well in advance to make the product more user friendly. I'll discuss more marketing the product in the next section.
---
Promoting your Product 🥳
Well, the article by its nature is meant for increasing the visibility of your product utilizing Product Hunt. Still, there is more that you need to do than just launching the product on Product Hunt.
Don't forget Social Media
We can't underestimate the influence social media has these days. Use different platforms to get in front of people to warm them up before the launch.
Stay original, share your story very transparently.

Keep things simple.

Engage & get involved with influencers or potential customers.
Give Offers
Who doesn't want a good offer? The PH community is no different. Create incentives for people who wish to subscribe to your services. For example, come up with an early access plan for the people who sent in their email-ids on your upcoming page powered by Ship.
You could also mention promotional offers in the Maker's comment section. Or, you can hand out Promo Codes to people in the comment section, inviting them to try your product out.
Add a PH badge
You can also promote that you are on Product Hunt, by adding a badge to your website that your product is listed on PH. The feature launched last year, allows people to interact with your website to discover the community behind your product as well as browse through genuine feedback and reviews.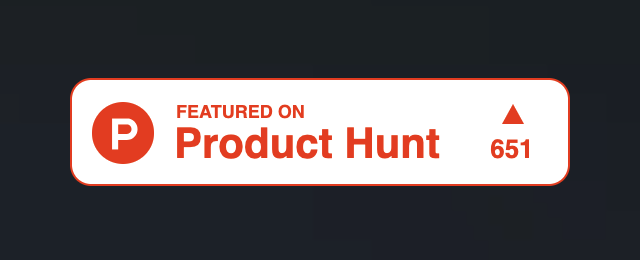 And as a bonus, they might contribute towards the upvote count as well. Here's how you can add the badge to your website.
---
Post Launch 🙏
Things don't end at launch. It's a great idea to build a slack or circle community to engage & get feedback from early adopters. You'll probably have bigger things to look after once your product is public. However, it's important to be grateful to the PH community.
Thank your users, subscribers, and other people who have supported you on this journey through their feedback, upvotes, and reviews. Tell them how much it meant to your team. A little bit of gratitude goes a long way.
It would also be worthwhile to reflect on the launch and see how far you have come since you fixed your initial targets. The metric that you established earlier will serve as parameters to analyse the impact of your launch.
If I had to add a TL;DR to this article, I'd say that building your presence on the platform is the most important part of any product launch. Product Hunt lets you harness the potential of the community in helping your idea reach its potential.
Don't procrastinate, keep building. Share this article with someone to encourage them to continue building. :)
---
If there's anything I can do to help, please feel free to reach out over Twitter- I'm at aayushjaiswal07. Share your thoughts in comments. 😊🙏